Thursday, September 16th, 2010
Below are our two entries for the Sukkah City design competition. All of the entries and winning designs can be viewed through the competion site –
sukkahcity.com
The twelve selected designs are still under construction – but should be completed soon – with the ultimate winner choosen by the public.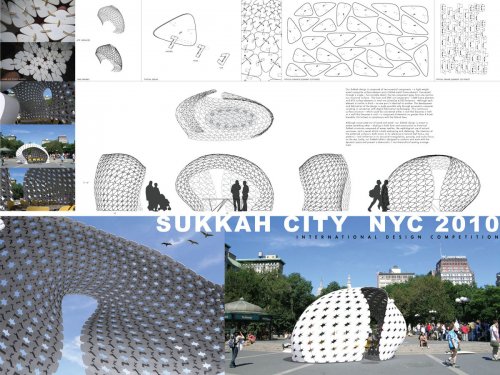 This Sukkah design is composed of two essential components – a light weight wood composite surface element and a folded metal frame element. Connected through a single – but variable detail, the two component types form one continuous structural surface. The laser and CNC cut components: 1,048 frame elements and 672 surface elements in total are joined by 4,032 fasteners. Although each element is similar in kind – no one part is identical to another. The development and fabrication of the design is made possible only through parametric computer scripting in connection with digital fabrication technologies. This continuous surface structure – which could be considered either a roof that becomes a wall or a wall that becomes a roof – is composed of elements no greater than 4 handbreadths (16 inches) in compliance with the Talmud laws.
Although constructed out of wood and metal– our Sukkah design is meant to evoke something other – eluding in both form and construction to historical Sukkah structures composed of woven textiles, the mythological use of animal carcasses, and a vessel which is both welcoming and sheltering. The intention of the patterned surface is both iconic in its reference to natural leaf forms, star patterns – and utilitarian in its structural triangulation, porosity, and ocular focus on the sky. Lastly, our Sukkah table is designed to conform and work with the dynamic space and present a democratic / non-hierarchical seating arrangement.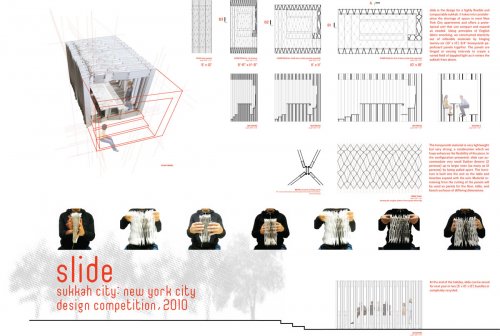 slide is the design for a highly flexible and compactable sukkah. It takes into consideration the shortage of space in most New York City apartments and offers a prototypical unit that can compact and expand as needed. Using principles of English fabric smocking, we constructed elasticity out of inflexible materials by hinging twenty-six (10' x 12') ¾"honeycomb paperboard panels together. The panels are hinged at varying intervals to create a varied field of dappled light as it enters the sukkah from above. The honeycomb material is very lightweight but very strong, a combination which we hope enhances the flexibility of the piece. In the configuration presented, slide can accommodate very small Sukkot dinners (2 persons) up to larger ones (as many as 12 persons) by being pulled apart. The furniture is built into the unit so the table and benches expand with the unit. Material remaining from the cutting of the panels will be used as panels for the floor, table, and bench surfaces of differing dimensions. At the end of the holiday, slide can be saved for next year in two (5' x 10' x 12') bundles or completely recycled.