Thursday, February 24th, 2011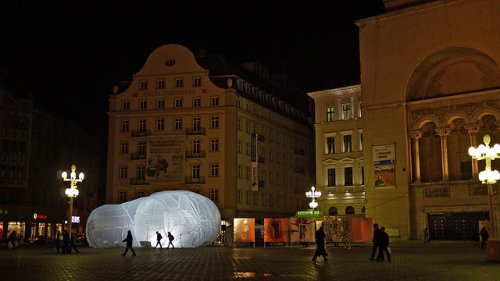 Anca Trandafirescu, with the assistance of Glenn Wilcox and Le Nguyen, was recognized for HOT AIR by the Association of Collegiate Schools of Architecture (ACSA) with the Faculty Design Honorable Mention.
HOT AIR is the temporary installation of a large inflatable, inhabitable monument in honor of the twentieth anniversary of the overthrow of the Romanian government. The project's name refers to both the unusually warm temperatures in Romania during that week in December 1989, which helped to bring citizens out into the streets to rally against the government; and also to the large amount of rhetoric surrounding these events.
ACSA annually honors faculty who have demonstrated excellence by providing a venue for work that advances the reflective nature of practice and teaching by recognizing and encouraging outstanding work in architecture and related environmental design fields as a theoretical endeavor.
HOT AIR was exhibited Nov. 3-7, 2009, in Timisoara, Romania, and was also on display in Ann Arbor in spring 2010 as part of TedX.
Trandafirescu and Wilcox will accept the Faculty Design Honorable Mention at the 99th ACSA Annual Meeting, March 3-6, 2011, in Montréal, Québec.
ACSA awarded three top prizes and six honorable mentions this year. HOT AIR, along with the other award-winning projects, will be published in the digital 2011 Architectural Education Awards Book.
To read more about HOT AIR—and to view photos and video—visit the 2009 news post.